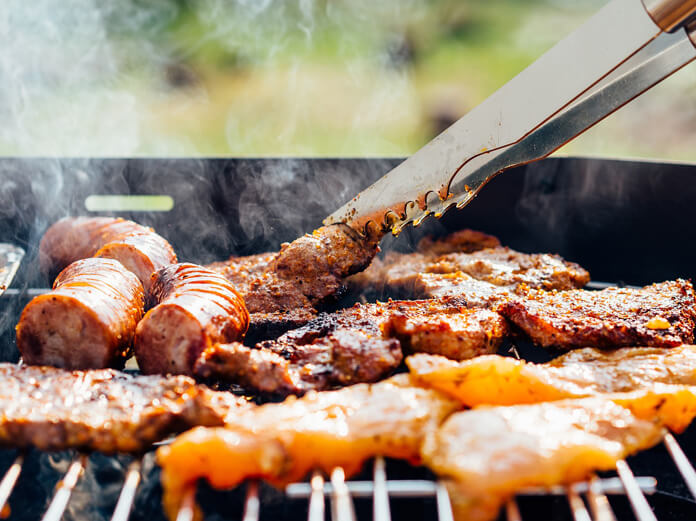 Summer season in Germany means grill parties, grill parties and more grill parties! If you've never had the chance to experience a real German grill, you may be surprised that they don't throw typical BBQ parties like you may expect!
Here is a list of five things to expect at a typical German grill party and five that are not on the menu!
5 things to expect at a German grill party

Sausages, sausages, and more sausages.
It's no secret that German's are a big fan of sausages—Bratwurst, Thüringer Rotwurst, Nürnberger Rostbratwurst—the list goes on and on…

Pre-marinated grill steaks.
Luckily, the grocery shops take grill parties just as seriously as the Germans themselves. As soon as the season begins, shops have designated sections for just "grill-themed" food. One of the most popular is grill steaks, typically made of pork. They come in a variety of seasoning, too!

Chips.
Salty chips, barbeque chips, peppery chips, salt and vinegar chips, sweet chili chips… the varieties are endless. And one of the most popular brands (with the most unique combinations) is Funny Frisch.

Single-use charcoal grills.
Don't have your own grill? Have no fear. Just pop into the local supermarket for a single-use grill for less than €5.

Beer.
Did you see this one coming? Any German grill party is not complete without a plethora of beer to go around. Pilsner, wheat beer, dark beer, and craft brews, too!
5 things you won't find at a German grill party

Buns.
Shocking, I know. For all the sausages, buns seem to be mysteriously missing to those of us not from Germany. But, alas, Germans are always prepared. There are plates, which have a part to rip off at the end to create a barrier between your fingers and the sausage.

Sauerkraut.
Sauerkraut is a big part of the German culinary repertoire, but it is typically eaten in the winter, and mostly in Bavaria as a side dish.

Gas grill.
Charcoal is the fuel of choice for many Germans. These grills are cheap, and easily portable from park to park!

Hamburgers.
Despite being home to Hamburg, Hamburgers are not a commonplace at a typical German grill party. Don't expect to get a whiff of any sizzling beef. Sausages and pork are on the menu at any grill party.

Big desserts.
In the land of Kaffee und Kuchen don't expect to see any heavy desserts at a German grill party. If you do have something sweet, expect it to be light fruit or yogurt.