Germany's second largest city is often overlooked for the more popular cities of Berlin or Munich. However, visitors should definitely consider taking at trip to one of Europe's most scenic cities, equipped with so many waterways and canals it has been nicknamed the "Venice of Northern Europe". Yep, we're talking about Hamburg.
Hamburg offers many activities for travelers throughout the entire year, but there's something about the Hamburg summer in this Hanseatic city that is particularly special.
1. Explore the canals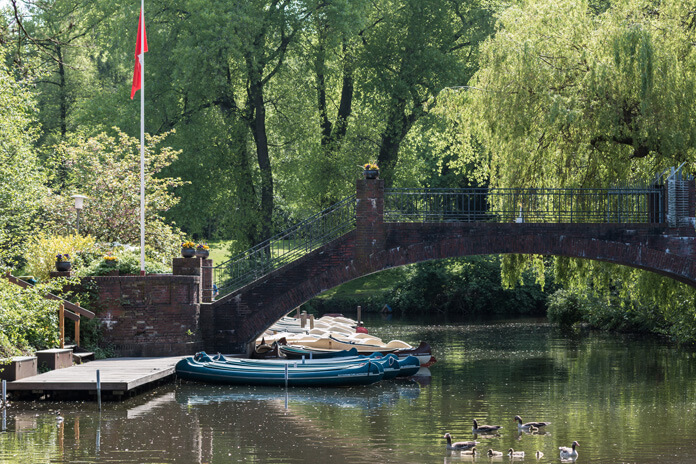 Nothing beats a slow cruise through the canals on a warm sunny day in Hamburg. There are so many twists and turns; the opportunities for exploration are endless! Plus, you can easily find many places that offer canoe, kayak or even paddleboard rentals all along the waterways. Insider tip: pack a picnic lunch and paddle towards the main city park "Stadtpark", where you can park the boat in the small lake there.
2. Grill in the park
One of the best things about Hamburg summer is it is so green. No, really! With roughly 8% of its total area covered in parks and gardens, it is one of the greenest metropolises in all of Europe. As well, in many areas of the park open grilling is allowed, and if you don't have a grill, have no fear! Most grocery stores (Rewe, Penny, Edeka, Lidl, etc.) sell disposable ones for less than €5 in addition to tons of "grill-themed" foods (pre-marinated meal, grill cheese, marinated vegetables and even "grill-chips"!).
One of the most popular spots is at the Stadtpark, but perhaps even nicer is the Alsterwiese Schwanenwik, located about a ten minute walk from the U3 stop Uhlandstraße. Also, if meat isn't your thing, another great grilling option is to head to the famous Hamburg Fishmarkt where you can find local fishermen selling fresh catches (plus so much more) each Sunday morning.
Which brings me to my next activity…
3. Enjoy the vibrant nightlife
Hamburg has some of the most exciting nightlife scenes in all of Europe—from the Reeperbahn (one of most famous red light districts in the world, which also includes clubs, bars and tons and tons of fast food places), to St. Pauli (a more alternative, but underground bar scene), to Schanze (one of Hamburg's most trendy neighborhoods with cool bars and restaurants spilling out into the street on a summer night). The parties start to get rowdy around 1 or 2 am and can easily go into the morning hours.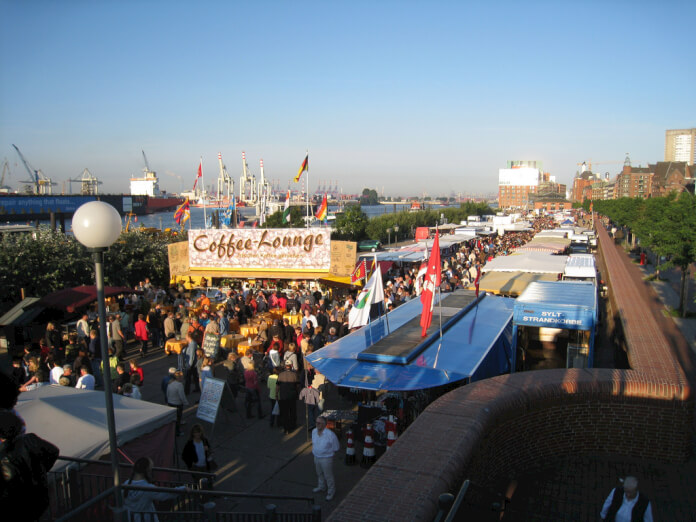 And if you find yourself still in the festive spirit when the sun starts to come up, make sure to head to the Fishmarkt (yep, the one mentioned in the last point) for some live music, drinks and, of course, lots of fish sandwiches! (A must-see for anyone visiting a Hamburg summer).
4. Chill out at Strand Pauli
Hamburg's famous "beach bar" Strand Pauli is the perfect place to relax and enjoy the view on a warm summer day. Situated just a few minutes walking from the U3 stop Landungbrücken (in the direction of the Fishmarkt) is a sand-filled paradise equipped with beach chairs, reggae beats and, naturally, some delicious cocktails.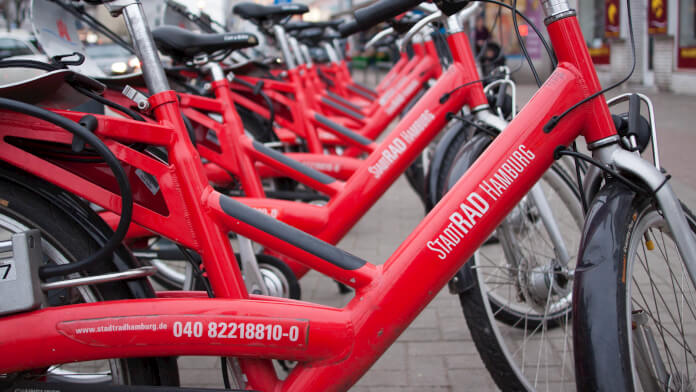 Hamburg has an extensive bicycle path network and the city bike system (Stadtrad) is the perfect way to explore the city on a budget—getting a little exercise too! The registration fee is just €5 and the first 30 minutes is free. Plus, you can rent two bikes from one account at the same time and stations all located all throughout the city. During the Hamburg summer you are sure to have at least a few nice days to explore this beautiful city!
Also—download the Heute in Hamburg application to stay up to date on interesting events, performances or activities going on throughout the city.