Germany is often in the forefront of sustainable innovations. And starting December 2017, they will launch the first hydrogen-powered train to regularly travel long distances, aka hydrail. It will begin its route on the Buxtehude-Bremervörde-Bremerhaven-Cuxhaven regional line in Lower Saxony.
How does the hydrail work? 
Recently unveiled at the Berlin InnoTrans trade show by French company Alstom, the train—called the "Coradia iLint"—has been in the works for the past two years. It operates through electricity obtained from lithium ion batteries, powered by a hydrogen fuel cell stored in the roof of the train. This, in turn, produces electrical energy to power the train itself. The developers of this product are especially proud of the energy storage device, which operates through an intelligent energy management system.
The technology is an innovative, sustainable solution to diesel trains that are still widely used in Germany and produce zero carbon emissions and does not pollute the air. In addition, the hydrail is much quieter than typical diesel trains. The only sound comes from the sound of the wheels themselves and the air resistance. This provides a great benefit to people living along train tracks.
The first hydrogen-powered train to regularly travel long distances
Although the only set route at the moment is in Lower Saxony, the states of Baden-Württemberg, Hesse and North Rhine-Westphalia have also showed interest in installing the trains. In addition, the neighboring countries of Denmark, Norway and the Netherlands also want in.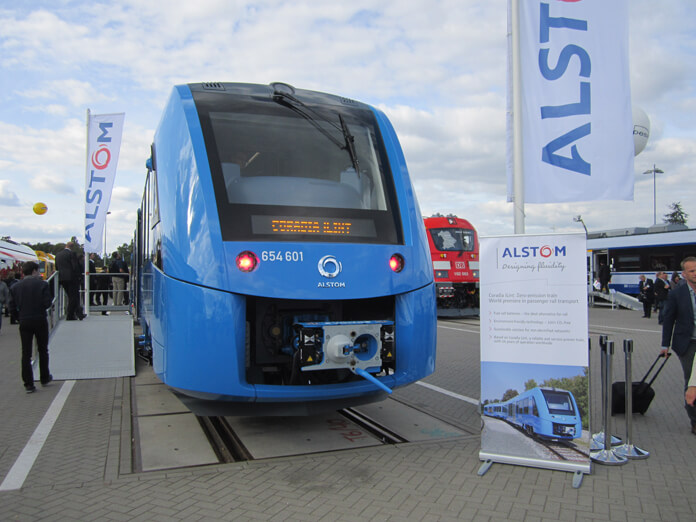 Currently, the fuel tank capacity allows the trains to travel long distances without added fuel. A full tank—approximately 94 kg per car—can operate for a full day, going as far as 600 to 800 km. In addition, it runs up to 140 km/h.
Also included in the plans are to provide the required hydrogen-producing plants along train routes. "We will build a corresponding supply system for the trains to [get refueled]," said Jens Sprat, head of the company's Urban Transport department to Die Welt.
The one downside: hydrail costs more than diesel 
Although not explicitly discussed, it's expected to be higher than the diesel trains. However, Alstrom estimates that operating costs will be comparable. The Coradia iLint isn't the first hydrogen-powered passenger train to be introduced to the world, either. In fact the term "hydrail" was first coined back in 2004 by Stan Thompson, a former strategic planner at AT&T.
Since that time, there have been numerous prototypes of hydrogen trails. This is especially in China and Japan, and many hydrail conferences have taken place throughout the world. Germany will be, however, the first place where a hydrail is actually implemented.
All aboard!